Printmaking with Kids: Monoprinting with Nature and a Gel Block
Creativity for Little Wild Hands
With sharp tools, tough linoleum, and a hulking press, I have to admit my usual printmaking practice isn't exactly kid-friendly. After some requests for more accessible options, particularly from my own five-year-old SJ, I wanted to offer a weekly series of creativity with the kiddos in mind. My hope is that these will be artsy craftsy activities that keep them entertained (at least for 30 minutes… maybe), but also produce pieces of artwork worthy of a frame, rather than just the fridge or the back of your dresser drawer.
I'll be collaborating with SJ to test them out and provide some photo instruction. We'll generally use what I have on hand, and I'll provide links (full disclosure: these are Amazon affiliate links, but also genuinely what we used or a near substitute). I really love using artist-quality materials with him, as I think it instills a respect for the process, but I fully recognize that's not everyone's philosophy. I'll offer more economical alternatives where necessary.
Monoprinting with Backyard Treasures
First up, let's focus on monoprinting with nature! It's summer, everything is green, and kids love collecting treasures outside. Creating lasting artwork with garden clippings is a perfect way to memorialize the season while making a memory together. Full disclosure, SJ was initially disappointed he wouldn't be carving with my tools (sorry, kid!), but quickly forgot about that once he started gathering leaves and picking out ink colors.
Monoprinting is really special because it creates one print. One original and beautiful moment in artistic time. Especially using delicate items like leaves, you'll likely never position them exactly the same way, or the ink will be slightly different. You can create "sister" pieces, those which are similar and clearly made during the same session, but they'll never be exactly the same. That's what makes each piece wonderfully unique.
What we used:
Speedball Gel Plate (we used 5"x7")
(We used Caligo Safewash and Traditional Inks, but I would honestly recommend something else for easier clean-up with kids. I just couldn't convince SJ otherwise.)
(This is what I keep on hand, and it prints beautifully, but cardstock you can find in your local craft store would work great, too!)
Finding Your Inspiration
Once you've gathered all your supplies, patrol your yard neighborhood to find a handful of clippings you can use. I find ferns to be my personal favorite, which our yard has in abundance, but all leaves have beautiful shapes and textures. As you walk with your child, make sure to note the different options. They're natural little detectives and love the details.
Try a variety of items, from single leaves or fern fronts to a small branch. Then you can decide what you like best and experiment with different compositions - or include all of them, depending on the size of your gel plate.
Keep in mind that flowers can be very delicate, and might fall apart if you want to ink them. You may have to paint them gently with a small paint brush instead of using a brayer. Alternatively, you can press them into the inked block and remove them to leave a pattern, rather than leaving them for the print.
Less is more here. Squeeze out a small dollop, spread it out until you hear that satisfying "velcro" sound, and then only add more as necessary. (Kids looove the spreading.)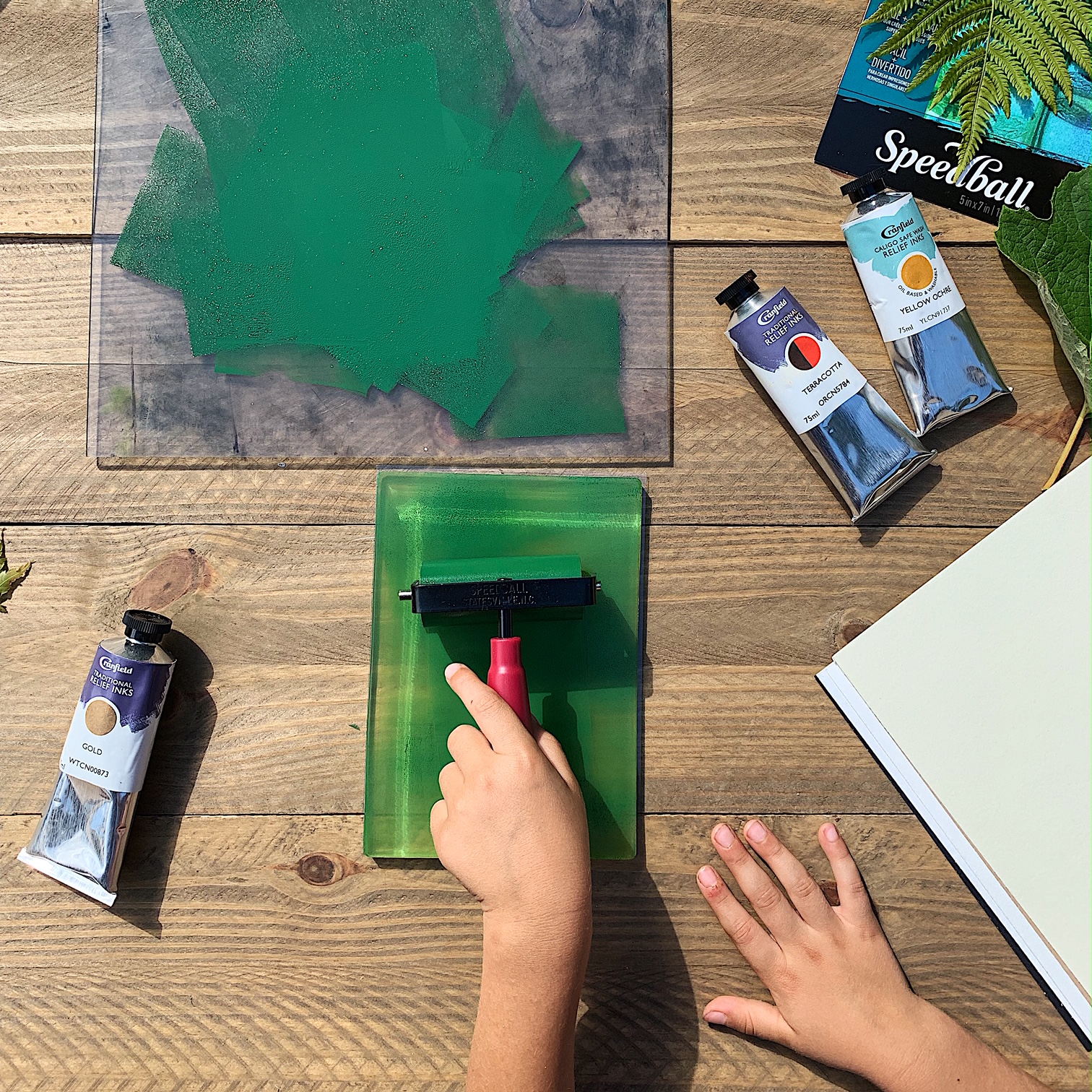 If you want a lighter, more transparent color, keep the layer light. (You should still be able to see through the ink.) But if you want a more opaque color, go ahead and add another layer. This will be the background color.
Depending on the fragility of your item, make sure you roll it out gently and in a direction that does not pull or tear your little treasure.
You can let one item be the star of your piece or arrange several smaller clippings in a design or pattern.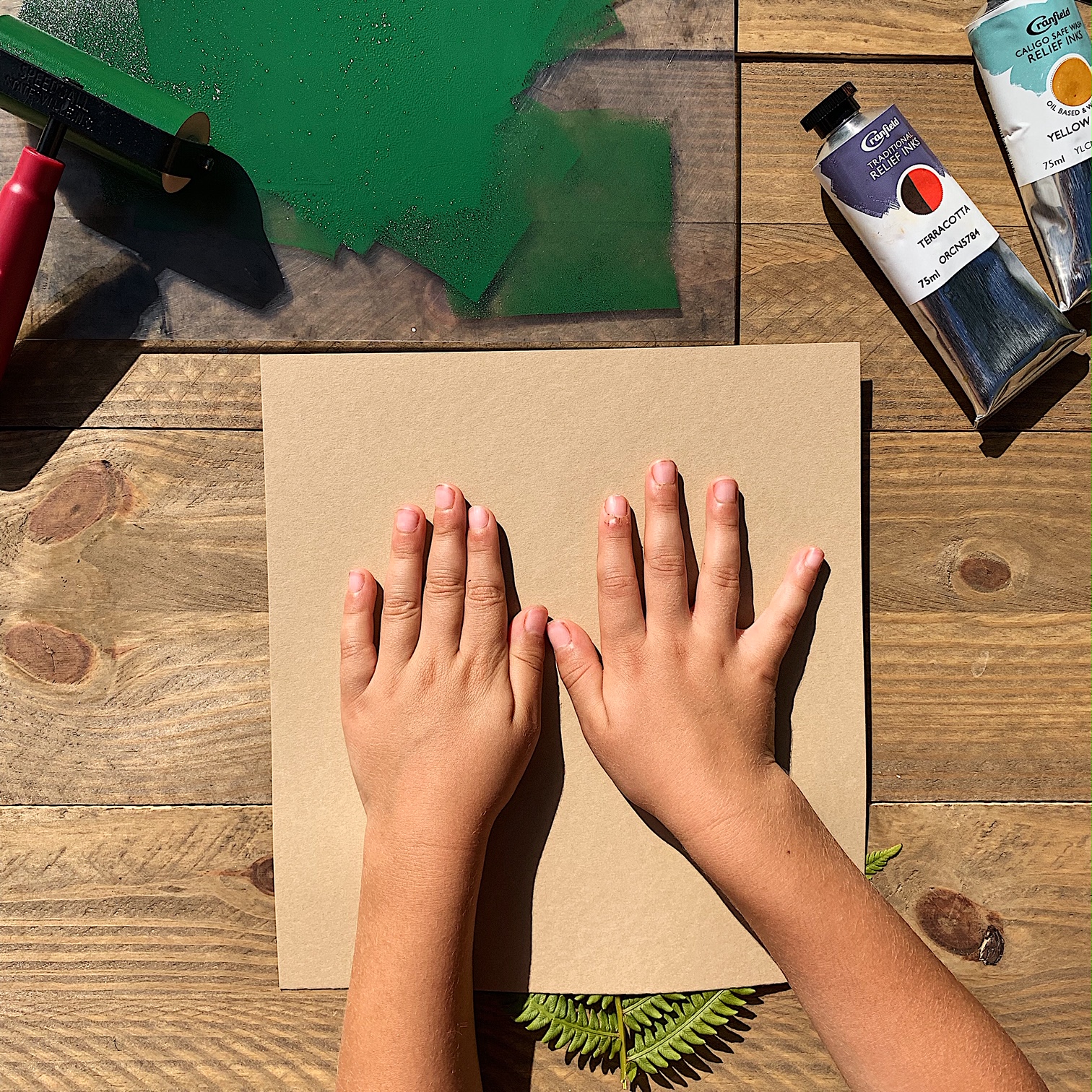 Carefully place your paper on the block. (Parents, if you're doing this with kids and want the image centered on the block, they might need help here.) Once it's on, push gently, careful not to wiggle the paper or let it slip.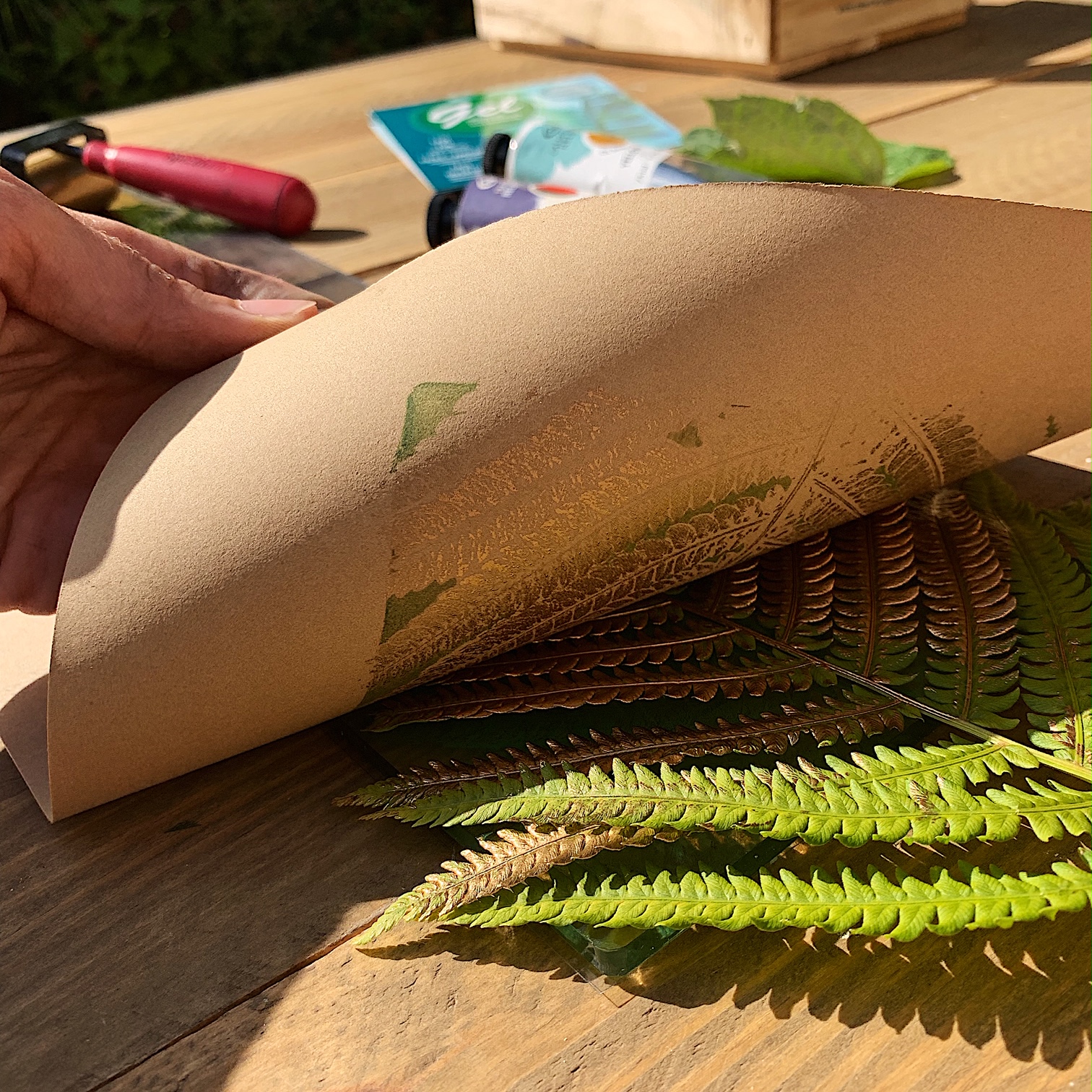 Carefully peel back the paper to reveal your print.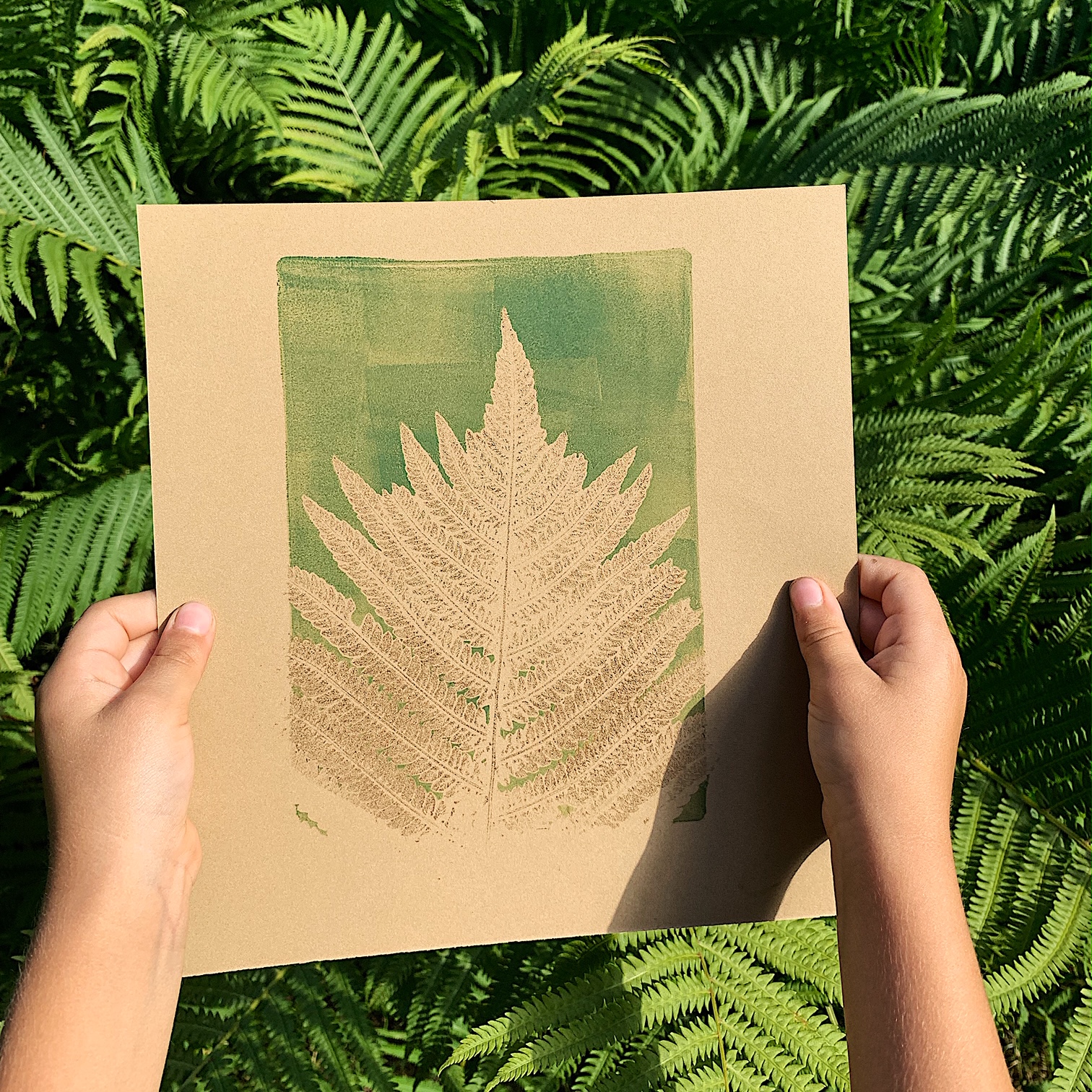 In addition to the print you just pulled, you can go ahead and press a new paper on the block to get a totally different effect. Or ink it up again and try something new!
Continuing to Experiment and Print
A gel plate is incredibly versatile, easily washed and used over and over and over again. Below you'll find some additional ideas you might want to try.
Experiment with different colors, rolling out multiple colors on the block and in different patterns (ombre, stripes, etc.).

Use clippings to create a simple white space for a bold graphic effect.

Gently draw in the ink (a crayon is a great option, as it won't mark the block and is sharp enough to draw, but won't damage the block).

Find fun textures to create markings in the ink on the block. This can include pieces of nature, but also household items (corks, cardboard, etc.).
Have fun with it! Kids are especially interesting to print with because they notice things we might not. Once I explained what we were doing, SJ was determined to find leaves with lots of texture ("all the lines!"). And if you try it out be sure to tag me on Instagram or use the hashtag #littlewildhands!
Until next week!
Again, I want to be transparent and remind you that the links provided are to Amazon. I am a participant in the Amazon Services LLC Associates Program, an affiliate advertising program designed to provide a means for me to earn fees by linking to Amazon.com and affiliated sites. That said, any item I link to is something I've used and feel confident recommending.